현재위치 :

HOME

>

시리얼 통신(RS232,422,485)-광,무선,시리얼 컨버터 허브,서버,랜 컨버터,MAU,AUI,

> 이더넷 - 시리얼,USB

세나의 STS 시리즈 제품군은 RS232 시리얼 통신을 하는 시리얼 장비들을 10/100Base-T 이더넷에 연결하여 주며, 4, 8, 16 포트를 지원하는 모델로 구성되어 있습니다. STS 시리즈 제품군은 다양한 운영 모드, TCP/UDP 멀티 캐스팅, Telnet COM port control protocol(RFC2217), SSL 암호화, 포트 로깅 및 포트 이벤트 핸들링 등의 유용하고 다양한 기능을 갖추고 있으며 PCMCIA를 지원합니다.

기존의 시리얼 장치들을 10/100Base-T Ethernet 네트워크 연결
RS232, 최대 230Kbps 속도 지원
PC card 슬롯 지원: ATA 플래쉬메모리, 모뎀, 유무선 LAN 카드지원
다양한 TCP/UDP 호스트 연결 모드 지원: Multiple host connection/data transfer
강력한 보안 기능: SSL(Secure Socket Layer), RC4 및 3DES
손쉬운 사용자 Customization 지원: User space, Library 및 Script (네트워크 및 포트 접속)
시스템 로깅 및 포트 로깅 지원
초고속 인터넷망 연결을 위한 Dynamic DNS, PPPoE 프로토콜 지원
웹, 콘솔, Telnet/SSH 등을 이용한 시스템 설정
서지보호기 장착
RFC 2217, Telnet COM Port Control Protocol 지원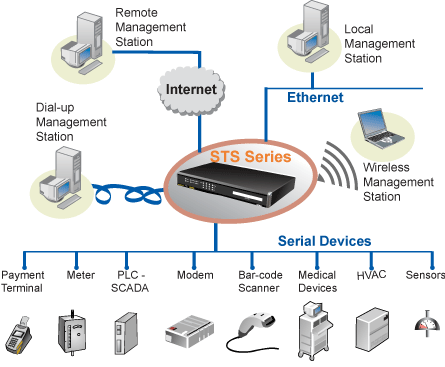 STS400
STS800
STS1600
CPU
MPC 855T 32-bit RISC CPU, 50Mhz
DRAM
64 MB
플래시 메모리
8 MB ( 1 MB of user programmable space )
시리얼
인터페이스
4-port
RJ45 connector
8-port
RJ45 connector
16-port
RJ45 connector
Serial speeds 75bps to 230Kbps
Flow Control: Hardware, Software
Signals:

RS232: Rx, Tx, RTS, CTS, DTR, DSR, GND

네트워크
인터페이스
10/100Base Ethernet with RJ45 Ethernet connector
Supports static and dynamic IP address
네트워크 프로토콜
ARP, IP/ICMP, DNS, Dynamic DNS
SMTP with/without Authentication, pop-before SMTP,
DHCP client, NTP, PPPoE
TCP, UDP, SSL v2 & v3, TLS v1, RFC-2217
SSH v1 & v2,Telnet
HTTP, HTTPS, SNMP v1 & v2
Serial Port Access protocol :
Telnet, TCP, UDP, SSL v2 & v3, TLS v1, RFC-2217
임베디드 리눅스

File System :

CRAMFS, JFFS2, NFS, EXT2, VFAT/FAT



Utilities :

Bash : OS shell command
busybox : Linux normal command utility collection
shadow : User/Password management utility
telnet : Telnet client program
ftp : FTP client program
SCP : Secure file transfer client program
iptables : Firewall service manager



Utilities only for Super Series :

ss.apply, ss.filter, ss.portmenu, ss.channel, ss.logger, ss.save, ss.configuration_manager, ss.port, ss.tcp, ss.modemmenu, ss.server_lock, ss.connect, ss.nfs_mount, ss.edit, ss.port_factory_default, port[number]_reset



Daemon :

snmpd : snmpd agent daemon
telnetd : Telnet server daemon
inetd : TCP server manager program
goahead : Web server daemon
sshd : Secure shell server



Tool Chain :

Gcc ( V2.95.3 ) : C/C++ PC Cross Compiler
GDB ( V5.0.0 ) : Source Level Debug Server
Glibc ( V2.2.3 ) : POSIX standard

PCMCIA
보안

User ID & Password

HTTPS
Secure terminal interface: SSH
Data Encryption: SSLv2/v3, TLS v1, 3DES and RC4
IP address filtering
SCP
모델 애뮬레이션

Full support for AT commands

관리

Web
Telnet/SSH
Serial console port
HelloDevice Manager
O/S support: Windows 98/ME/NT/2000/XP

System log and statistics:

System logging to SYSLOG/NFS server or CF card
Logging by email support
Full-featured system status display support

Firmware:

Stored in Flash memory and Downloadable via serial console or telnet or web

LED

Power
Ready
10/100 Base Link, Act
Serial Rx, Tx for each port

파워
5VDC1.5A @ 5V
110~250 VAC, 50/60Hz 43W
동작 환경
Operating temperature: 0'C to 50'C
Storage temperature: -20'C to 66'C
Humidity: 90% Non-condensing
외형 요소
245x 153x 30 (mm)
9.6 x 6 x 1.2 (in.)
432 x 193 x 44.5 (mm)
17 x 7.6 x 1.75 ( in.)
Weight: 1.5kg
Weight: 2.8kg
MTBF
17.08 Years
8.93 Years
인증
FCC Part 15 Subpart B, Class A
EN61000-3-2, EN61000-3-3
EN60950-1
EN55022
EN55024
MIC
보증 기간
5-year Limited Warranty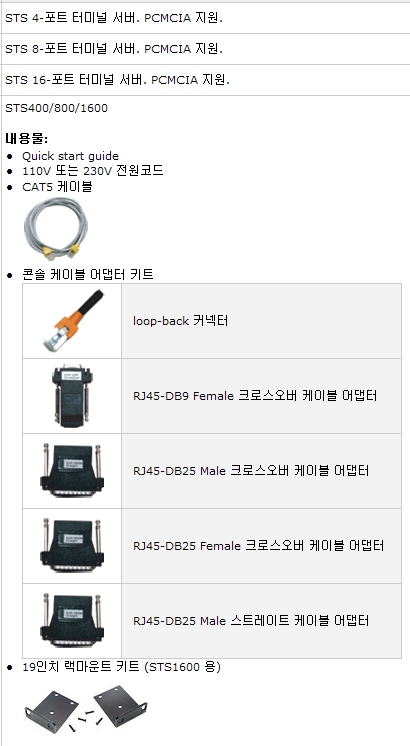 고객님 결재 완료 확인후
1~3일 이내 전국(도서지방제외)으로 택배를 통해서 배송됩니다.
교환 및 반품은 배송 후 14일 이전에 가능합니다.

제품 이상이 아닌 경우는
제품을 개봉하지 않은 재판매가 가능한 상태이어야 하며,
저희 고객센타(전화:02-716-3799)로 연락을 주시면 신속히 처리를 해 드리겠습니다.

환불의 경우 신용카드 결제시는 신용카드 취소를
온라인 입금인 경우, 주문자 계좌번호를 알려주시면 3일내로 입금처리해 드립니다.
***중요공지***
wirelesscafe.co.kr 이외의 도메인으로 접속한 경우에는 결제시
아래 그림과 같이 보안오류가 발생하오니,다시 wirelesscafe.co.kr 로 재접속후
구매를 진행하여 주십시요.